The global online shopping market is growing rapidly, reaching almost 4 trillion in 2020. Unfortunately, customers are relying heavily on online shopping so much that the possibilities of payment fraud and cyberattacks are on the rise. According to research by OpSec Security, 86% of customers were victims of some data breach or credit or debit card fraud in 2020. 
From the statistics, it's evident that payment security is the need of the hour. As a result, every online business is looking for solutions to safeguard its customers' data from cybercrimes. 
And this is where the tokenization of cards can help. The fintech industry introduced the tokenization of cards to intensify security against account misuse or data fraud. 
Recently, in India, RBI issued guidelines to secure sensitive information or data for debit and card care transactions through CoF (Card on File) tokenization regulations. 
But what is tokenization? How does it ensure payment security? If you're new to the term, you've come to the right place. This article will help you understand everything you need about tokenization in 2022. 
What Is Tokenization?
In the fintech industry, the term tokenization has been buzzing over the last few months. It is the process of replacing or substituting sensitive data with randomly generated, unique symbols, phrases, or keywords known as tokens. 
If you're a credit or debit card holder, tokens will represent your card's information like card number, CVV number, and bank details during the payment process. The tokenization process ensures that your payment card details remain secured and don't get exposed.
The tokenization of payment cards is available in several countries, including the USA, Australia, Europe, and India. This method is also massively used because the PCI DSS ( Payment Card Industry Data Security Standards) has encouraged the adoption of payment tokenization. 
As online data breaches have skyrocketed across the industry, the tokenization method has gained popularity among online merchants. Tokenization provides security against data breaches, reduces red tape, and gains customer confidence. 
The tokenized data is always protected, as hackers can do nothing with the tokens. Also, the merchant doesn't have to manage their customers' sensitive data, which results in reduced costs and a low risk of data breaches. 
Paytm, India's largest payments and financial services company, said they had tokenized over 28 million cards across Mastercard, Visa, and RuPay to secure online payments. 
"Paytm is committed to safe and secure online payments, and in that direction, RBI's tokenization efforts are a key milestone for the industry. We recognised the need for tokenized cards and implemented the same on Paytm app. We are seeing incredible success, and this will go a long way in bringing India's payment system online while also making it trustworthy and safe for customers."– Vijay Shekhar Sharma, Founder, and CEO of Paytm
How Does Tokenization Work? 
Before tokenization, you had to enter your credit or debit card details (your name, card's expiry date, CVV number, and 16-digit card number) each time you made an online payment. Now all these payment details get stored by the payment processor or online merchant's platform. 
With tokenization, your card details or number will be replaced by a unique token number. Your card network or bank randomly generates this token number. And the card network or the respective bank has API systems to analyze your card and token number, so the payment gets credited or debited to the cardholder's account without storing any data. 
Here is a step-by-step process that explains the tokenization process of credit cards transaction: 
You make an online purchase with your credit card details. 

The sensitive data of the card is sent to the tokenization service provider. 

The tokenization system tokenizes the card (replaces the sensitive data with a token) and sends it to the acquiring bank. 

The bank uses the token to request authorization from the credit card company. 

The bank secures the original payment information. Once the token supplied by you matches your account number, the transaction will be verified. 

Once your payment is successful, the token will be returned to the merchant. 
In the future, when you'll again purchase something from the same merchant, there will be different token sequences. This efficient security will boost client satisfaction and conversion rate.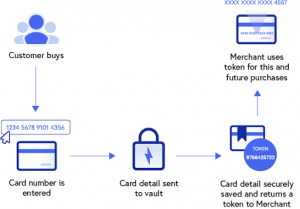 The popularity of tokenization has increased the use of mobile wallets like Google Pay and Apple Pay. It is predicted that the use of mobile wallets (Apple and Google Pay) in North America is set to increase between 2020 and 2025. 
Wrapping Up 
The tokenization of cards is an example of how technology will impact the fintech industry in the future. That's why several e-commerce sites and in-app payment apps are adopting this process.
As tokenization of payment cards removes the risk of saving your card details on the merchant site, you can expect enhanced security. 
Even if hackers try to steal the tokenized data, they won't be able to link the card information with the token. Undoubtedly, it has the potential to lower the risk of data breaches significantly. 
About Signzy
Signzy is a market-leading platform redefining the speed, accuracy, and experience of how financial institutions are onboarding customers and businesses – using the digital medium. The company's award-winning no-code GO platform delivers seamless, end-to-end, and multi-channel onboarding journeys while offering customizable workflows. In addition, it gives these players access to an aggregated marketplace of 240+ bespoke APIs that can be easily added to any workflow with simple widgets.
Signzy is enabling ten million+ end customer and business onboarding every month at a success rate of 99% while reducing the speed to market from 6 months to 3-4 weeks. It works with over 240+ FIs globally, including the 4 largest banks in India, a Top 3 acquiring Bank in the US, and has a robust global partnership with Mastercard and Microsoft. The company's product team is based out of Bengaluru and has a strong presence in Mumbai, New York, and Dubai.
Visit www.signzy.com for more information about us.
You can reach out to our team at reachout@signzy.com.
Written By:

Signzy
Written by an insightful Signzian intent on learning and sharing knowledge.