A revelation on growth prospects for fintech firms in India and the challenges in financial sector.
The global economic crises brought the world economy to its knees a decade ago. Still, the world's largest banks operated and continue to operate, almost as if they were too big to fall. This feeling was echoed by Governments the world over. Their steadfast foundation among consumers has now been challenged by a different type of institution. This is the financial technology start-ups. (fin-techs.)
A compelling argument elucidates the whirlwind-like effect that fin-tech start-ups have on banking. The shift of priorities towards a consumer-convenience model gives incentive to banks to collaborate with fin-tech companies. These fin-techs make banking processes quicker and easier. They continuously innovate in the field to ensure greatest satisfaction of the consumer.
Fin-Techs – a Growing Force Internationally
The growth of fin-techs has been exponential, making them a true force to be reckoned with. Venture capitalists, private equity firms, corporates etc have poured an unprecedented amount of money into global financial technology start-ups. More than $50 billion has been invested in almost 2,500 companies since 2010. These innovators redefine the way we store, save, borrow, invest, move, spend and protect money. Leading financial analysts and experts like KPMG have estimated that the investment in fin-techs will increase by a whopping 36% in 2016.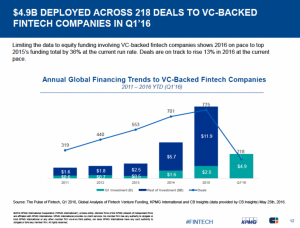 There are various instances of success when it comes to fin-techs across the globe. Fin techs realize that consumer desire is paramount. They have persevered to provide quality digital service to thousands of consumers across the globe. M-Pesa is a case in point. M- Pesa is mobile money platform created by Vodafone and functional in Kenya. It capitalized on the realization that phones can be used to not only make calls, but also execute financial transactions. The premise of the M-Pesa is that most people in emerging and frontier markets don't have bank accounts. They can use the platform via their mobile phones to make payments and ease money transfers. Estimates suggest that nearly 43 percent of the gross domestic product of Kenya takes place on the M-Pesa platform. The upward trajectory of investment in fin-techs is due to the satisfaction they provide to consumers worldwide. This has ensured that they become a strong global force.
Fin-Techs and India
The Modi regime in India has been particularly supportive of the start-up culture in India. There has been consistent lobbying for foreign direct investment into the entrepreneurship sector. There have been initiatives such as 'Start-up India, Stand up India'. India is among the first five largest start-up communities in the world. with the number of start-ups crossing 4,200 (at a growth of 40%) by the end of 2015. A Microsoft Ventures report states that the number of start-ups is expected to zoom from 3,100 in 2015 to an expected 11,500 start-ups by 2020.
The recent demonetization has encouraged ideas of a cashless and an e-wallet friendly economy. It has further prioritized the necessity of secure enablers and other platforms, such as Signzy Technologies Pvt. Ltd. They ensure a simple, secure and legal way of making payments. They also help to execute other necessary due diligence through their products like RealKYCTM, ARITM (Algorithmic Risk Intelligence) and Digital Contracts. This provide safety and security of parties to an online/diligence related transaction.
Flipkart CEO Binny Bansal and Snapdeal (and Freecharge) CEO Kunal Bahl acknowledged demonetisation as a game-changer. They labelled it as a move which will usher in the era of digital growth in India's economy. The economy currently needs a stable and reliable platform to ease payments and related transactions now. This is where fin-techs step in. They bridge the gap between security and dependability. These are two key considerations that consumers in this new-look economy will have.
Services which Fin-Techs Can Offer
Payment security is a key concern in today's risk-loaded environment. Innovation is essential to ensure risk mitigation and consumer responsiveness in the sector.[6] Fin-techs enable convenient and quick payments for various services, goods and other transactions through mobile wallets. Tokenisation and biometric data have developed to a great extent. This ensures authorization of payments through 'mobile wallets'. There is no need to go through elaborate documentation and technicalities anymore.
Fin-techs also enable the transfer of value of currency between to persons, thus enabling person to person (P2P) payments. The same transactions can be made between institutions and persons also.
The picture above is a representation of a report by BI Intelligence. It shows the growing popularity of P2P payments using mobiles. It also explains how they may serve as a bridge to widen use of smartphones to complete in-person "wallet-less transactions".
Collaborative Actions between Fin-techs and Banks in India
Banks have realized that the way forward is to embrace digitized processes. It is essential to collaborate with fin-tech start-ups to maximize consumer satisfaction. Various Indian banks have taken active steps to partner with start-ups to make banking processes easier.
HDFC has partnered with a Bangalore-based start-up called "Tone Tag". It provides phone-based proximity payment services to its customers. it had also tied up with Chillr — an app-based payments platform which transfers funds from account to account without having to fill in any account numbers or bank codes. The bank is also known to host start-up competitions in the form of digital innovation summits.
Axis bank partnered with Vayana Network. Together. Together, they launched "Invoice to Payment," an end-to-end digital invoicing and payment solution. The solution aims to simplify B2B payments in India. Currently B2B payment is estimated at over $95 billion annually. It offers digital invoicing, electronic workflow approval and instant payment processing for businesses in India.
ICICI Bank is partners with Paytm. Paytm is India's largest mobile payment firm to launch virtual prepaid cards. This idea has now evolved into the Paytm wallet. It can be used for purposes such as purchasing supplies, usage of public transport etc.
YES Bank has partnered with some exciting fin-tech start-ups like Ultracash Technologies. They have launched payments processing through sound waves and TimesofMoney. They also plan on launching their own online remittance solution called YES Remit. YES Remit will allow non-resident Indians (NRIs) to send money to any YES BANK account or other bank accounts in India.
Bill Gates once said that banking would remain essential to the world, but banks wouldn't. Fin-tech companies are looking to take over the market. Hence, NBFCs and financial institutions need to remember is that collaboration is key. It is high time that these institutions look inwards and identify key weaknesses that these fin-techs can fill proficiently. Fin-techs and undeniably exciting. They also own the brightest and most innovative minds in the country and have enough funding. Yet taking lessons in market expertise, brand image, expensive licensing, brand name and image etc. from banks is the only way for them to progress. A combination of digitally aware customers and a symbiotic synergy between fin-techs and financial institutions is indicative of the birth of a new system of global finance.
About Signzy
Signzy is a market-leading platform redefining the speed, accuracy, and experience of how financial institutions are onboarding customers and businesses – using the digital medium. The company's award-winning no-code GO platform delivers seamless, end-to-end, and multi-channel onboarding journeys while offering customizable workflows. In addition, it gives these players access to an aggregated marketplace of 240+ bespoke APIs that can be easily added to any workflow with simple widgets.
Signzy is enabling ten million+ end customer and business onboarding every month at a success rate of 99% while reducing the speed to market from 6 months to 3-4 weeks. It works with over 240+ FIs globally, including the 4 largest banks in India, a Top 3 acquiring Bank in the US, and has a robust global partnership with Mastercard and Microsoft. The company's product team is based out of Bengaluru and has a strong presence in Mumbai, New York, and Dubai.
Visit www.signzy.com for more information about us.
You can reach out to our team at reachout@signzy.com
Written By:

Signzy
Written by an insightful Signzian intent on learning and sharing knowledge.