Introduction
Motor insurance formed 39.4% of all non-life insurance markets in India combined. A major reason for this is India's swiftly expanding Automotive industry. Automobile sales in India have risen to a 7.01% CAGR between 2013 and 2018. This constitutes the sale of nearly 25 million vehicles in 2018 alone.
The growth in the industry is not going to wane any time soon. But the competition in the field is not getting any easier either. Each Insurer is trying to offer better rates and offers for the customers.
This will be a chance for Insurance institutions to grab a bite of the impending opportunity. They should use every trick they can find to increase customer satisfaction and decrease costs. And the best in the quiver is automation of the entire industry. Automation brings forth other advantages like better customer experience and lesser processing time. This article has a detailed look at how companies can do it and how a few are already doing it.
The Growing Indian Automobile Market And The Potential It Holds
Motor insurance unlike most other insurance options is mandatory. It is used to insure any type of motor vehicle, be it two, four, or eighteen-wheeled. This is for our safety and the safety of others on the street. They do not just cover the motor vehicle but also to an extent, the health care of the individuals involved.
In 2019 India became the fourth largest automobile market superseding Germany with nearly 4 million units sold. By the end of 2021, the country is expected to ascend to 3rd place displacing Japan. Domestic production increased by 2.36% CAGR between 2016 and 2020. All this reinforces the incredible growth of the Indian market.
Unfortunately, A large number of vehicle owners in India are not renewing their insurances because of Insufficient enforcement, Substandard follow-ups by insurers, and increasing third-party cost covers.
The Insurance Information Bureau reported that the ratio of uninsured vehicles increased from 54% in 2018 to 57% in 2019. This implies that more than 13.2 crore vehicles on the street are uninsured. For a country with nearly 50 lakh registered accidents, that's a lot. The operative word here being 'Registered'.
The bulk of the uninsured are two-wheelers and vehicles bought at lower cost points. We can infer that owners in this segment consider even the current prices unaffordable. If the prices can be lowered by the insurers, it might will help bring in more customers.
The Existing Claims Process In The Vehicular Insurance Industry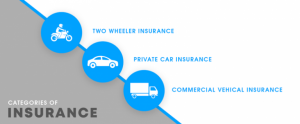 The automobile insurance sector has been afflicted with immense pricing competition, high costs of acquisition, sparse product innovation, fraud, and abuse in vehicle repair networks. Although this has changed over the past decade, many insurers consider cost control to be a solution over better risk selection methods. This might not be the general norm, but it is a possible option many opt for.
In India automobile insurance is classified into primarily three categories:
Private Car Motor Insurance- all privately owned cars and four-wheeled vehicles.
Two Wheeler Insurance- constitutes all two-wheeled vehicles like motorcycles and scooters.
Commercial Vehicle Insurance- includes trucks, taxis, and other commercial vehicles.
Discounting some major corporations, most insurers in India still onboard their customers and provide services in the traditional ways of the past. This not only does produce a bad customer experience but also increases the cost and time required. Physical applications are obtained and processes are conducted in person expending hours of both the agent and the customer.
The insurance claims process is a brutal experience for many customers as multiple documents have to be submitted multiple times to prove their claim. These documents range from the basic policy number to the copy of the vehicle inspection address details. This is tedious and cumbersome for the clients.
There are three major types of claims:
Third-Party Claim- covers any damage to third-party property and healthcare.
Own Damage Claim- covers any damage to your property and healthcare
Theft Claim- Covers compensation in cases of the vehicle being stolen.
The processes for each vary vastly and are confusing to the customer. A systematic method of maneuvering these hurdles is lacking and would help enhance customer experience.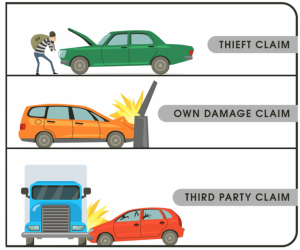 Claims Automation- How Will identity verification API Change The Process?
Traditional methods for verification demand manual assessment and submission of these photos and documents by claims officers. In which case, automation is entirely absent. It may take some hours or even days to assess the extent of damage. Claims automation makes the process require lesser effort from both parties. Most documents can be submitted in soft copies and identity verification API is used to validate and obtain data from them.
This helps insurance inspectors or concerned personnel to fast-track their processes. They can immediately store and retrieve data regarding the case through an online database system. This database system is usually composed of identity verification API that can be selectively used.
In advanced markets, RPA and AI are used for even evaluation and the validity of the claim. In a prime market like India, such innovation requires some more time. But eventually, the process will become completely automated.
Even documents are captured and processed with the help of identity verification API. The credibility of this process is better as the process is performed through strict automation avoiding human errors. The entire process can be simplified with a smartphone application for the processing. In the Back office, the assessment data is analyzed through human intervention. This double-checks the process and ensures the lack of any error.
Advantages and Disadvantages of Automation in Vehicular Insurance
Automation through RPA and AI brings forth multiple advantages for the insurers and the customers. But a detailed insight is needed to have a better understanding of how exactly it benefits the sector and where it could have some improvements.
The Advantages of Claims Automation in Automobile Insurance include:
Time for claims processing is reduced from 5–10 days to a matter of minutes as identity verification API is used to process documents, images, and other data for verification and validity of the claim.
More number of claims applications can be processed as the time and resources required for assessment of each is drastically reduced.
The overall cost for the insurers is reduced as time and resources are considerably reduced. This in turn decreases the overall expenses which can either be added to the company profits or used to reduce the cost of premiums. Thus, attracting more customers.
Automation enhances efficiency and develops cutting-edge equity in the procedure.
As the assessment and processing are not prone to much human error the credibility is increased in cases of disputes and disagreements. This gives more validation to the insurers' stance.
The efficient automation processing prevents fraudulent claims. As it is much harder to fake an accident or other modes of fraud like fake documents, fraud rates can be reduced to a great extent.
Unfortunately, the current automation methods have not reached their absolute potential. Due to this, they have certain areas of improvement that need to be addressed. Some of them are:
It is still not fully automated. Thus, human intervention to an extent is unavoidable. Perhaps in the future, this too shall be solved.
Assessment is still manual as the claims officer must perform this manually to an extent. This is something that can be improved in the future
Proper management of Cloud data storage and IT security is needed in Automation. The system must be foolproof for hackers and external disruptors.
Conclusion
The booming automobile industry is a lucrative opportunity for insurance companies. But with the newer norms from the government, the competition is only set to increase. As mentioned before, tackling this requires newer methods for processes. Is it not obvious that automation is a better path to take from the stagnating anchors of traditional methods?
Automation through identity verification API, RPA, and AI will create a smoother and easier experience for the claims processes. Its credible assessment and processing of claims bring more validity to the insurers. Overall the industry is set for a change through this. Some of the insurance companies in India like the IFFCO Tokio General Insurance Company Limited have adopted AI to a whole new level. But this is not the case with existing insurers in the automobile industry.
While embracing the perks of Automation, we must acknowledge one other factor. Automation is evolving. This evolution helps in making the processes and in essence our lives more comfortable. Hence, all the players in the industry are predestined to adapt to technology or fall in the coming age of transformation. The right choice is easy to see, but to accept is a bit more tricky.
About Signzy
Signzy is a market-leading platform redefining the speed, accuracy, and experience of how financial institutions are onboarding customers and businesses – using the digital medium. The company's award-winning no-code GO platform delivers seamless, end-to-end, and multi-channel onboarding journeys while offering customizable workflows. In addition, it gives these players access to an aggregated marketplace of 240+ bespoke APIs that can be easily added to any workflow with simple widgets.
Signzy is enabling ten million+ end customer and business onboarding every month at a success rate of 99% while reducing the speed to market from 6 months to 3-4 weeks. It works with over 240+ FIs globally, including the 4 largest banks in India, a Top 3 acquiring Bank in the US, and has a robust global partnership with Mastercard and Microsoft. The company's product team is based out of Bengaluru and has a strong presence in Mumbai, New York, and Dubai.
Visit www.signzy.com for more information about us.
You can reach out to our team at reachout@signzy.com
Written By:

Signzy
Written by an insightful Signzian intent on learning and sharing knowledge.