Health insurance policies are a vital instrument in the insurance industry. The Insurance Regulatory & Development Authority Of India (IRDAI), which acts as the regulatory body for all insurance companies in India, has allowed the use of paperless KYC collection, or e-KYC. This e-KYC will also be very useful in the current lockdown in the country. To enable this the government has allowed insurers to avail of the Aadhaar-based authentication services of the Unique Identification Authority of India
KYC Compliance Norms By IRDAI
IRDA has amended the Anti-Money Laundering (AML) guidelines and AML screening solutions which apply to general Insurers. This was done by circular no. IRDA/SDD/GDL/CIR/020/02/2013 on February 07, 2013. According to the guidelines. KYC documents (Proof of identity with photo, address proof) are compulsory for health insurance claims. This is highly applicable if the claim amount is Rs.1 Lakh and above.
Insurers need to verify the identity, address, and recent photograph (in the case of individual customers) as part of Know Your Customer (KYC) compliance norms. In this regard, the following documents are acceptable:
Recent photograph of payee
Proof of Photo Identity of payee
Proof of Residential Address of payee
The following documents are listed as valid Photo Identity Proof (Any One):
Passport
PAN Card
Voter's Identity Card
Driving License
Aadhar Card
Letter from a recognized Public Authority. (As defined under Section 2 (h) of the RTI Act or Public Servant (as defined in section 2(c) of the 'The Prevention of Corruption Act, 1988')
Personal identification and certification of the employees of the insurer for the identity of the prospective policyholder.
Job card issued by NREGA duly signed by an officer of the State Government
The following documents are listed as valid Address Proof (Any One):
Telephone bill with respect to any kind of telephone connection. This can be mobile, landline, wireless, etc. This document should not be older than six months from the date of the insurance contract
Current Bank Passbook — details of permanent/present residential address (updated up to the previous month). Health insurance policies are a vital instrument in the insurance industry.
Updated bank account statement with details of permanent/present residential address
Letter from any recognized public authority
Electricity bill
Ration card
Aadhar Card
Valid lease agreement along with rent receipt which is within the last three months
Points to be NOTED:-
If the Insured person does not possess any of the above, then the following documents are acceptable:
Employer's certificate as a proof of residence
Written confirmation of identification/proof of residence by the banks where the prospect is a customer
Medical Exam For Insurance
The Medical Exam is compulsory for many insurance companies, especially for volatile cases and cases with large claims value. It allows them to review your medical history and basic information that was used to make your insurance application.
All of the information is collected in the two stages of the medical exam. It is then combined with the statistical longevity data. The information on the insurance application is used to determine if you will be accepted for your insurance policy or not. It also determines what the annual premium will be.​
The medical exam will usually include two parts:
A verbal questionnaire in which the medical professional will ask a series of health-related questions
Standard and basic sample collections: During the medical exam a sample of urine and blood may be required for submission. These tests can often be done in your home. You should be notified in advance by your insurance agent or broker which tests need to be conducted.
Duration Of The Medical Exam
The exam is approximately 20 minutes to thoroughly review your medical history verbally with the official. Then, it takes only a few minutes to collect the samples.
Need For Medical Exam By Insurance
There are three reasons health insurance companies administer medical exams:
To verify the authenticity of the information submitted to the company in the application
To review the full medical history of the applicant. The questions pertaining to the exam are designed for an in-depth analysis of your medical history and your family members.
To identify any underlying medical conditions. The applicant may be subject to medical conditions such as diabetes, inconsistencies in the blood work, or HIV. Sometimes the applicant may not be aware of the condition or may have chosen to not declare the same. The company will also verify drug or nicotine use. The information from the medical tests will be matched against the sample test results.
Need For Digitization in Health Insurance
Well, it's nothing but the process of changing information into the digital format. With each passing year, digitization is becoming vital for the insurance industry. In 2005, people first started searching for digital insurance plans. Since then, digitization has consistently increased in strength in influencing the masses. Fast forward a decade and you can now buy digital policies online within a few minutes. You can find insurers everywhere, selling digital insurance online using social media prowess, and achieving resounding success.
The digital insurance market in the country is witnessing a compound annual growth rate of 25.36%. Digital media has played a crucial role in this spectacular growth and set the blueprint for digital insurance plans. Insurance companies embrace the digitization process with regards to proper digital norms as IRDA spearheads this empowering movement.
Despite filling the details on a website, this conventional method has the following drawbacks:
About 85% of the time and effort goes into manual form-filling, which is a huge pain point for customers and insurers alike.
The conventional method provides lesser room for fraud detection.
Human-errors can lead to catastrophic back-ops failures.
Increased turnaround time leads to increased time for processing claims, onboarding, etc.
Conducting a medical exam can also take time in terms of scheduling and verification.
What do the people gain from going digital for health insurance policies?
The conventional method can have the following disadvantages in terms of customer experience:
93% of customers get irritated by a lengthy & time-consuming onboarding process.
Lack of proper methods of ID verification leads to higher chances of fraud.
A bad customer experience during initiation leads to a broken onboarding journey.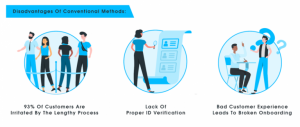 Insurance policies like any other investment are prone to security risks which causes inconvenience to the insurance buyers. Apart from security, there are many other issues that will be resolved due to the Digitization of insurance policies. What is the solution? How is it related to Digitization?
Document portability: One of the major solutions offered by digitization is that the insured will get an e-copy of the documents related to the digital policies in question. Managing Documents has always been a hassle for policyholders. A majority of them end up losing premium receipts, policy cards, and other related documents. These documents may seem insignificant. However, if you plan on availing of tax deduction they can be a golden egg. If the insurance period ranges for more than 5 years, losing documents during such a long period of time may seem logical but is simply unacceptable. Here is where digital insurance comes into play. Since e-copies are stored in cloud-based data-servers; they can be preserved and acquired without putting in much effort. The documents are easily available on any digital device capable of reading and displaying the data. The database is managed by IRDAI approved Insurance repositories. They are
CDSL Insurance Repository Limited (CDSL IR)
Karvy Insurance Repository Limited
National Insurance-policy Repository by NSDL Database Management Limited
CAMS Insurance Repository Services Limited
Better customer service: When people visit the insurance providers for any clarification or data-related queries, they are given a date and are told to come on that day. When you ask them for a reason for this delay, they simply provide polite excuses. This solution is not acceptable for some customers who may require the documents on priority. This may be to file a return urgently or to claim the insurance money. With digitized management not only, the conservation of the data would be easy but providing the customers with the necessary information will be at the push of a button. With a properly formulated digitization, the process of handling customer queries like generating premium calendars, claims, and premium records, online payment of premiums, and tracking consumer requests will gain a faster pace leading to more satisfied customers.
No need to provide KYC for a new policy: When applying for any other type of insurance from the same company, the consumers are often asked for their KYC documents as identity proof. Here, Digitalization might be one of the most convenient solutions for consumers. With their KYC data stored in the company's repository, all the company must do is overwrite the (Digital) application form with the data cached in their repository.
Monetary Efficiency: Not only do the providers who profit from digital insurance, but also the buyers experience ease in a transaction. Digital insurance can help the term insurance buyers save money on premiums with a 35–40% difference margin. How? When people buy term insurance, they usually buy it from an agent or a broker who adds brokerage or commission which is 30% of the insurance amount on the term insurance premiums. However, when you purchase term insurance online, you get insurance without any brokerage or commission added to the premium which saves you a margin of 30% easily.
Digital KYC For Fraud Prevention In Health Insurance
Fraud in the health insurance industry via impersonating a person is something where some people even go so far as to copy credit cards of another person and make payments using them. Fraudsters often use the medical insurance demographics of a person to gain healthcare benefits or purchase prescription drugs. Any of these situations can prove to be seriously harmful to the victim's reputation.
Medical identity fraud has some extreme consequences on a person's life. The financial shock can often be devastating for the insured. The emotional shock is of greater magnitude when a person gets their medical identity stolen. The medical institution itself has to overcome difficulties due to the type of fraud which it encounters. Medical identity theft is on the rise and a growing concern for both patients and healthcare providers. However, modern technology has revolutionized fraud prevention in healthcare.
The Healthcare industry is a booming sector in India and it is also replete with various challenges. Health insurance policies are designed with the intent of providing medical aid smoothly. It is equally vital to understand the health insurance details to gain optimum coverage.
However, the past decade has witnessed a rise in the fraudulent claims made by individuals. There is a constant need to revise the health insurance details, to avoid such deceitful claims. Both the insurance companies and policyholders must work together to tackle the problem.
Let us begin by first understanding the types of fraud in health insurance.
Different Types Of Health Insurance Frauds In India
Opportunity Fraud: This occurs when the policyholder provides inaccurate information while making a claim. One can hide a pre-existing condition or mislead the insurer to get the underwriting in their favor.
Deliberate Fraud: This involves the deliberate presentation of an accident or damage that is covered under the policy.
External Fraud: This is the fraud committed by policyholders, beneficiaries, medical service providers, or vendors against a company.
Internal Fraud: This is the fraud committed by agents, managers, or executives against a company. Even a policyholder can be at the cheating end of it.
Policyholder's Fraud: It basically comprises the below-mentioned 3 types of frauds — claims, eligibility, and application.
Claim Fraud: Of the various other health insurance frauds in India, this is another one. Under this, the person can make an illegal claim to take advantage of the insurance coverage.
Eligibility Fraud: This is one of the many frauds in health insurance. It occurs when the person fills in incorrect information regarding the pre-existing condition or employment status.
Application Fraud: The concerned individual can enter wrong information to avail the extensive coverage.
Using AI for Fraud Prevention in Healthcare
Health insurance frauds in India can be checked by analyzing the fallacious behavior of frauds. Certain measures have been put in place to deal with health insurance frauds in India.
A strict screening process is being implemented by various insurance providers in India nowadays. Many insurance companies are leveraging technology to detect fraudulent behavior. In order to mitigate risks that threaten the healthcare industry, one must harness technical tools.
In today's world, there are several third-party identity verification service providers. They offer digital KYC systems that use advanced AI and HI (Human Intelligence) to pick up attempts of fraud.
Online identity verification services authenticate individual users through document and facial verification techniques. This allows them to identify whether a person is using fake or stolen credentials and attempt to defraud the system.
KYC for a Better Customer Experience
Emerging technologies for online identity verification are critical because KYC adds friction to the onboarding process as customers go through the necessary identity verification steps. Long wait times are expensive for insurance companies and frustrating for customers who expect quick and easy interactions. In fact, research by Signicat found that more than 50 percent of retail banking customers in Europe abandoned their attempt to sign up for new financial services. The leading cause? The process simply took too long and was too onerous.
The challenge that every business faces, therefore, is how to balance KYC with the need for fast, efficient onboarding processes that deliver a positive customer experience.
Risk Management
It's not enough to look at a customer's risk profile only during the enhanced due diligence process of onboarding. Banks and other organizations must also look for signs of terrorist financing, suspicious activity, or other high-risk behaviors throughout the course of the business relationship.
In general, once a customer has been identified and verified, there is no requirement to re-verify their identity. The exception is when there is a trigger event, for example:
A product or service that you supply the customer changes
Suspicions are raised regarding previous demographic information collected and its authenticity.
Suspicions of money laundering are raised
By performing ongoing monitoring, businesses can implement a continuous risk assessment process that flags customers who may pose increased risks as circumstances change.
Digital KYC As A Means For Customer Onboarding In Health Insurance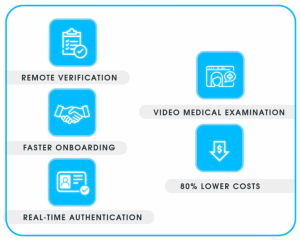 With the latest norms for digitization, Signzy has developed two unique KYC products to suit all onboarding scenarios in the health insurance sector. RealKYC & VideoKYC have been developed in compliance with industry standards and offer you the following benefits:
Remote Verification Of Medical Records: When purchasing a new health insurance claim, our digital KYC products ensure the authenticity of all submitted medical records.
Faster Onboarding Of New Insurers: Skip the long wait times for claim verification with RealKYC. Claims can be passed instantly as our patented AI helps reduce 90% of back-ops effort.
Real-Time Insurer Authentication: VideoKYC records the time stamp and audit trail for every application, ensuring all applications are authentic.
Online Medical Exam Through Video Conferencing: The insurers can directly connect with the medical examiner for the medical review which can be completed without hassle in a matter of minutes.
80% Lower Cost For Acquisition, resulting in easier and cost-effective onboarding
Future of digital insurance
Insurance, in most developed countries, is mandatory for every individual. Whereas, in India, policies like Mediclaim are availed only by people in urban areas. The insurance industry, however, is booming with success despite the facts. According to the reports from the BCG by the year 2020, a growth of 2,000 percent is predicted from its current state, while the turnover from the same range up to RS. 15,000 crore.
In a consumer trend analysis conducted by Google, there has been a significant 450 percent growth of searches related to life insurance and health insurance since 2008. On the other hand, the insurance industry itself has witnessed a 600 percent growth in the past five years. Experts believe, in the coming 2–3 years, 75 percent of insurance policy purchases all over the world will be done through digital channels.
The Government's initiatives like Pradhan Mantri Suraksha Bima Yojana and Rashtriya Swasthya Bima Yojana encourage citizens to take insurance. Many governments in the country are in the early stages to digitize processes of obtaining and claiming insurance.
Digitization might be an elaborate process as most of the companies have employees who are not accustomed to the new digital procedures. On the other hand, it might need to be regulated with proper guidelines and rules to protect both the insurer and the insured against data misuse. One can say, Digitization will give a fair experience to each policyholder.
About Signzy
Signzy is a market-leading platform redefining the speed, accuracy, and experience of how financial institutions are onboarding customers and businesses – using the digital medium. The company's award-winning no-code GO platform delivers seamless, end-to-end, and multi-channel onboarding journeys while offering customizable workflows. In addition, it gives these players access to an aggregated marketplace of 240+ bespoke APIs that can be easily added to any workflow with simple widgets.
Signzy is enabling ten million+ end customer and business onboarding every month at a success rate of 99% while reducing the speed to market from 6 months to 3-4 weeks. It works with over 240+ FIs globally, including the 4 largest banks in India, a Top 3 acquiring Bank in the US, and has a robust global partnership with Mastercard and Microsoft. The company's product team is based out of Bengaluru and has a strong presence in Mumbai, New York, and Dubai.
Visit www.signzy.com for more information about us.
You can reach out to our team at reachout@signzy.com
Reach us at www.signzy.com
Written By:

Signzy
Written by an insightful Signzian intent on learning and sharing knowledge.