The Insurance Regulatory and Development Authority of India (IRDAI) has permitted insurance companies to issue policies on the basis of a video KYC (know-your-customer) process. Moneycontrol had first reported the regulator's plan of allowing insurers to adopt video-based KYC for policy issuance. It has already allowed insurers to use digital modes for validating policyholders' signatures on documents.
Earlier, the Reserve Bank of India (RBI) and Securities and Exchange Board of India (SEBI), too, had allowed entities such as banks and mutual funds to use video-based tools to complete the mandatory KYC process. The Pension Fund Regulatory and Development Authority (PFRDA) has also permitted distributors to use video KYC for onboarding National Pension System (NPS) subscribers.
IRDAI introduces VBIP
In a circular sent exclusively to all general, life, and standalone health insurers; IRDAI expressed its readiness to introduce a Video-based Identification Process (VBIP) allowing insurers to provide a Video-based KYC method to their customers for KYC verification.
The circular also outlined regulations that will have to be followed to complete video KYC for insurance onboarding. These regulations are similar to the Video-based Customer Identification Process (V-CIP) introduced by the RBI recently, and the Video In-Person Verification Process (VIPV) brought in by SEBI.
The circular encourages the use of AI and other emerging technologies to ease the video KYC process and, on the surface, appears to be beneficial for the insurance sector. But what does VBIP really mean for insurers?
What are the problems with traditional insurance onboarding?
The inadequacies plaguing insurance onboarding are, to a certain extent, shared by manual and paper-based onboarding processes throughout all industries.
Traditional KYC verification in the insurance sector involves — manually creating insurance documents, collecting pertinent identifying documents from the customer, verifying the information in these documents, sending the relevant insurance contracts to the customer, and obtaining the customer's signatures on these contracts.
This process encompasses numerous inefficiencies and areas due for optimization; some of the problems with paper-based insurance onboarding are –
High operational & onboarding costs: Paper-based KYC methods make use of inefficient and expensive mechanisms for documentation and verification purposes; these include paper documents, manual verification, and disparate KYC workflows. Operational costs are also high due to the manual nature of operations.
Lengthy verification processes & high drop-off rates: KYC verification is tedious and frustrating when done manually. These problems are compounded when the possibility of losing or misplacing paper documents is taken into account. Lengthy verification is also a burden to the customer, leading to low levels of satisfaction, numerous KYC drop-offs, and ultimately a business loss.
Excessive workforce requirements: Paper-based KYC documentation inherently requires a workforce to function; employees are also required to perform ID verification and due diligence on the verification processes. These requirements further exacerbate the operational liabilities of traditional onboarding.
Messy paper trails: Mountains of paperwork are almost a prerequisite for onboarding when a customer visits an insurer. However, all this paper is more than just daunting; it's needlessly expensive, tedious, and time-consuming. The paperwork also increases the chances of losing or misplacing customer information, thus further increasing the time taken for onboarding.
Manual errors and data security: Manual errors are a certainty in traditional KYC verification. Organizing customer documents, data entry, and KYC verification are all subject to manual error, which significantly costs the insurer. Additionally, paper documents are the least secure when it comes to protecting customer data and can easily be lost or misplaced, leading to distrust amongst customers and further costs.
Traditional insurance onboarding, therefore, isn't really a walk in the park. What will the alternative proposed by IRDAI look like? The circular gives us some clues.
What are the steps in VBIP?
According to IRDAI, VBIP in practice will be quite similar to the video-based customer identification process (V-CIP) envisaged by RBI a few months ago and also to VIPV.
However, we must note here that the IRDAI circular does not include PAN validation in the steps for VBIP, as opposed to RBI's V-CIP in which PAN validation is a part of the process.
Now, here are the rules set forth by IRDAI for its new video-based KYC process
KYC verification must be conducted by an authorized official from the insurer via video after obtaining the customer's consent. This video must then be recorded and stored in a safe place with date and time-stamps.
The official can either perform offline verification of Aadhaar or online OTP-based eKYC authentication provided that the customer voluntarily submits such identifying information. In offline Aadhaar verification using Aadhaar XML or QR code, the official must ensure that the XML file or QR code was generated at most three days before the VBIP process.
The official must capture a live photograph of the customer, ensure that it matches the picture in the customer's Aadhaar and that the identification details in the customer's Aadhaar match with those provided by the customer.
The customer's location is to be determined via geo-tagging to ensure that the customer is in India.
The official must initiate an audio-visual interaction with the customer consisting of a varying series of randomized questions, to confirm liveliness and that the interaction is not pre-recorded.
Insurers must ensure that the process is seamless and takes place in real-time. Additionally, the official will have to make sure that the customer is not covering any part of his or her face and that the video quality is satisfactory so that the customer is easily recognizable.
The audio-visual interaction in question must be triggered from the insurer's domain and not using third-party services, and the official conducting VBIP must be trained for this specific purpose. The activity log of the official undertaking VBIP and the details of the official must both be preserved.
Insurers will have to carry out security audits and validation to ensure that their VBIP application is secure and end-to-end encrypted before releasing their applications to the public.
All accounts opened via VBIP will only be functional following concurrent audits, underwriting, and verification.
Note here that IRDAI does not explicitly state that these steps are to be followed in a particular sequence; the circular states only that VBIP must consist of the aforementioned steps and that the guidelines must be followed.
Now that we know what VBIP will look like, we must next extrapolate these guidelines to figure out how this new video-based KYC process will affect the insurance industry.
How will VBIP affect insurers?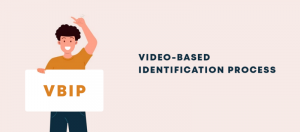 The IRDAI circular was preceded by decisions from both RBI and SEBI to introduce video KYC for onboarding purposes. This suggests that the introduction of VBIP had a lot to do with the ramifications of V-CIP and VIPV on the financial and securities-related industries.
The impact of video KYC on banking and securities has been exceedingly positive, resulting in massive reductions in onboarding costs and TAT, and several millions of accounts opened via video. Therefore it's safe to assume that the intention of IRDAI in releasing this circular was to provide these same benefits to the insurance sector, and it's highly likely that this is indeed what will happen.
As mentioned before, onboarding across industries is quite similar, and hence changes in the onboarding process are likely to shake out in the same way. Given the extensive advantages of video KYC in banking and securities, we can reasonably expect the following benefits for insurers:
Reduced onboarding costs: As with the banking sector, insurers can expect up to a 90% reduction in onboarding costs by digitizing onboarding using video-based KYC methods.
Lowered TATs: Automated verification and digitized documents ensure that onboarding is completed within minutes instead of days.
More completions: Video KYC is streamlined and efficient, allowing for instant KYC verification and smooth onboarding, which is guaranteed to massively lower KYC drop-offs.
Increased customer satisfaction and reach: Customers will no longer have to visit offices carrying folders full of documents to be onboarded but can instead complete their KYC using just a device with an internet connection. This will also allow more people to obtain insurance, which will be a positive development, especially during these times.
Customer safety: Customers, especially those in dire need of insurance, are either unable or too fearful to travel to insurers to obtain insurance. However, video KYC allows such vulnerable customers to complete KYC verification remotely and obtain the insurance they need without stepping outside their homes.
Secure customer data: In an age of frequent cyber-security breaches, data security is a prime concern for both businesses and consumers. Video-based KYC processes such as VBIP ensure the security of sensitive customer data and are instrumental in protecting information.
The benefits of video KYC are numerous, and the adoption of VBIP will certainly positively impact the business performance of insurers.
A video KYC is done to make sure the person buying an insurance policy is real and alive. It allows an insurance official to see you through a live video over the internet. Insurance companies — life and non-life — can now use a video-based identification process (VBIP) to obtain customers' KYC documents, which is mandatory before issuing a policy. They will have to complete the process through their official technology platforms that facilitate recording videos of policyholders for the purpose. "Insurers may undertake live VBIP by developing an application that facilitates the KYC process either online or face-to-face in-person through video," IRDAI said in its circular.
How will the process be carried out?
Either the insurers' staff or authorized representatives can record a 'clear, live' video of policyholders at their homes and obtain identification information. "Discussions around implementation are still on. Approaches could vary as per the company. The first option is to enable advisors to visit the prospective policyholder's house, connect her to the insurer's employee through the official app and record the video KYC process as per IRDAI's guidelines. The second option is to send a weblink to the policyholder who will use it to log in online At the other end, the insurer's employee will record the identification process," says Anilkumar Singh, Chief Actuarial Officer, and Appointed Actuary, Aditya Birla Sun Life Insurance.
As a customer, you can choose to share your Aadhaar information or any other officially valid document such as a passport and driving license. If you have signed up for the Digilocker facility, you can submit a digitally signed copy. Or, you can simply share it in the form of a clear photograph or a scanned copy of the original document, through the e-Sign mechanism. Your live location will also be captured, along with the date and time-stamp. "Geotagging is a must. The KYC process is valid only if the prospective customer is in India," says Vaidyanathan Ramani, Head, Product, and Innovations, Policybazaar.com.
At your end, you should also ensure that your face is clearly visible in the video and not covered in any way.
Conclusion
In these COVID-19 times, you will not have to risk visiting an insurance company's branch or agent's office to complete the policy purchase process, including KYC verification. Insurers are yet to roll out the process. Once they do, it is likely that you will have to access the insurer's platform via a link or app shared by the company. You will have to answer questions via a video instead of doing so physically, besides sharing KYC documents online to complete the process. "The questions could be dynamic. Since one of the purposes is to establish that the person is alive, questions could be devised in such a way that responses cannot be standard," says Vaidyanathan.
While the onus of executing a secure transaction is on the insurer, on your part, ensure that you are dealing with authorized representatives of the company and the video is being recorded through company-authorized channels.
About Signzy
Signzy is a market-leading platform redefining the speed, accuracy, and experience of how financial institutions are onboarding customers and businesses – using the digital medium. The company's award-winning no-code GO platform delivers seamless, end-to-end, and multi-channel onboarding journeys while offering customizable workflows. In addition, it gives these players access to an aggregated marketplace of 240+ bespoke APIs that can be easily added to any workflow with simple widgets.
Signzy is enabling ten million+ end customer and business onboarding every month at a success rate of 99% while reducing the speed to market from 6 months to 3-4 weeks. It works with over 240+ FIs globally, including the 4 largest banks in India, a Top 3 acquiring Bank in the US, and has a robust global partnership with Mastercard and Microsoft. The company's product team is based out of Bengaluru and has a strong presence in Mumbai, New York, and Dubai.
Visit www.signzy.com for more information about us.
You can reach out to our team at reachout@signzy.com
Written By:

Signzy
Written by an insightful Signzian intent on learning and sharing knowledge.