"India needs a paradigm shift in personal data management" — stated in the NITI Aayog draft on DEPA architecture. With the introduction of the PDP Bill, the argument holds rightfully so. We already have the blueprint, so isn't it time we get started on the building architecture itself? So the DEPA was just a matter of time.
The DEPA framework is robust and unique to Indian data privacy laws. Anyone who goes through the proposal will agree that it overlays some areas which are not unique. These areas can be found in the data privacy framework of other nations as well. Let us take examples of the two prominent ones — Europe's GDPR and California's CCPA.
CCPA — Popularity Of Privacy In California
There is no single authority for oversight on data privacy in the U.S.
Instead, the country maintains a sectoral approach. It is dependent on a collective of sector-specific laws and state laws.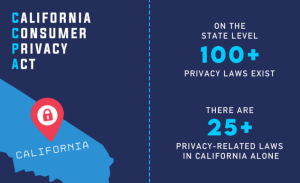 There are almost 20 industry — or sector-specific federal laws. on the state level, more than 100 privacy laws exist (in fact, there are 25 privacy-related laws in California alone) .
The California Consumer Privacy Act (CCPA) provides citizens of California with 4 rights for power over personal data:
– right to notice
– right to access
– right to opt-in (or out) and
– right to equal services.
Any organization which gathers the personal data of California residents must adhere to CCPA.
Personal Data Classification in CCPA
The CCPA defines personal information as "information that identifies, relates to, describes, is capable of being associated with, or could reasonably be linked, directly or indirectly, with a particular consumer or household." In other words, the State recognizes a "broad list of characteristics and behaviors, personal and commercial, as well as inferences drawn from this information" that can be used to identify an individual. Examples of covered personal information include:
Personally identifiable information (PII) . This can be name, address, phone number, email address, social security number, driver's license number, etc.
Biometric information, such as DNA or fingerprints.
Internet or similar electronic network-based activity information. This can be browsing history, search history, and information regarding a consumer's Internet activity.
Geolocation data
Audio, electronic, visual, thermal, olfactory, data or similar format of data.
Professional or employment-related information.
Education information, defined as information not readily available for the public.
Inferences drawn from any of the above examples that can create a profile about a consumer. This reflects the consumer's preferences, characteristics, psychological trends. It also displays predispositions, behavior, attitudes, intelligence, abilities, and aptitudes.
GDPR — The European Breakthrough In Privacy
GDPR is an EU regulation that has been designed to protect user's personally identifiable information (PII). It also enables businesses to hold a higher standard in terms of how they collect, store, and use this data.
Similar to CCPA above, GDPR gives EU citizens control over their personal data. It also assists in changing the data privacy approach of global organizations.
Key Highlights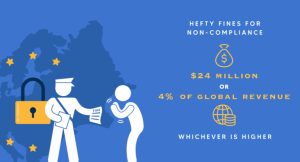 GDPR is applicable to all who process "personal data". Most obviously, these are names, email addresses, and other types of PII
It creates significant new responsibilities. Processing personal data makes you responsible and accountable for its security and use.
It has a global reach. Despite being an EU law, it applies to all, regardless of their location.
It doesn't just apply to traditional businesses. The principles are concerned with what you do with other people's data, not who you are or why you do it;
There are hefty fines for non-compliance. These can go up to €20 million ($24m) or 4% of global revenue, whichever is higher.
What are the common denominators?
The CCPA is about increasing transparency for California residents. It allows them to discover and change how their data is collected and transacted. Meanwhile, the GDPR is a binding regulation. It monitors data privacy across the E.U., replacing dozens of national privacy laws with a single framework. However, GDPR does have implications for businesses in the US, despite originating in Europe.
Side by side, here's how they compare:
Both regulations arose to protect people in a world of increasing global interconnectivity. This is in a world where international transfers of personal data are more frequent and elaborate. Regrettably, advances in technology have resulted in data misuse scandals & sophisticated cyber attacks.
CCPA and GDPR apply to individual organizations in different ways. While there are some nuances in scope that distinguish both sets of legislation, they share similar goals.
How do the laws define personal information?
Personal information (CCPA) vs. personal data (GDPR)
CCPA deals with the collection and sale of personal information. GDPR on the other hand addresses personal data processing.
The CCPA defines personal information as any information that identifies, describes, relates to, or can be linked with a consumer or household. This includes PII as previously discussed.
Under the GDPR, personal data refers to any information that directly or indirectly identifies someone. While this doesn't include household identifiers, any identifying personal data that is not anonymized falls under the GDPR. The CCPA, however, exempts specific categories of medical and personal information from its scope.
Contributions of CCPA & GDPR:
The two regulations overlap when it comes to some rights — so if you're already compliant with GDPR, you're well on your way to meeting CCPA requirements.
Here's what the CCPA and GDPR have in common:
The right to know: Under the CCPA, businesses must disclose to consumers (upon request) the information that is collected, used, disclosed, and sold. Organizations under the GDPR must notify individuals at the time of collection and inform them of the purpose. They must also inform how long they'll retain this data, and who it will be shared with.
The right to access: Individuals are entitled to access their personal data. They can request copies of their personal information verbally or in writing. Businesses have a month to respond to requests under the GDPR and — most of the time — can't charge fees to deal with them.
The right to portability: Individuals protected by the CCPA and GDPR have the right to request their personal information. This can be inaccessible, machine-readable formats such as CSV, XML, and JSON.
The right to erasure: Consumers have the right to request the deletion of any personal information. This can be to an organization has collected or stored under a variety of circumstances.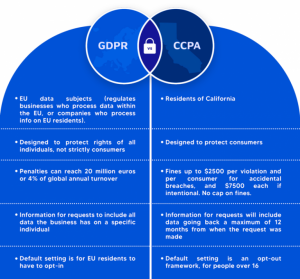 DEPA — How Laws Like GDPR and CCPA laid the groundwork?
The PDP Bill introduces the construct of consent managers. They are data fiduciaries registered with the DPA. They provide interoperable platforms that aggregate consent from a data principal. This is similar in many ways to the GDPR Data Controllers. As mentioned above, personal data identification is also similarly reflected by the CCPA. The assigning of key stakeholders is also the same here.
Data principals may provide their consent to these consent managers. The consent is for the purpose of sharing their information with various data fiduciaries. They may even withdraw their consent through these consent managers. This is a unique construct. This concept has been introduced to support the Data Empowerment and Protection Architecture (DEPA) for financial and telecom data. This currently powers the Account Aggregators licensed by the RBI.
DEPA — Building From The Data Privacy Blueprint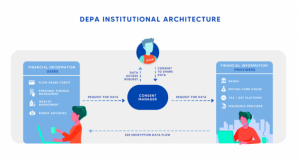 NITI Aayog has presented a draft policy highlighting DEPA. DEPA stands for Data Empowerement and Protection Architecture. It allows individuals to "seamlessly and securely access their data. This can be shared with third-party institutions.
The report looks into assisting organizations with sharing the personal data of an individual with one another. This can be done through the concept of "consent managers". They will manage people's consent for data sharing.
The policy constitutes this new data governance model in light of 'individual empowerment'. This is done by enabling the seamless exchange of personal data among institutions. The process is secure and minimizes privacy harms.
This draft policy follows the myriad of other data-related policies in India. These include the Non-Personal Data Governance Framework and the National Digital Health Mission. NITI Aayog has stated that the policy will be publicly launched and operationalized in 2020 itself.
Features:
DEPA will authorize individuals with control over their personal data. This will be done by implementing a regulatory, institutional, and technology design for secure data sharing.
DEPA is designed as an evolvable and agile framework for good data governance.
DEPA empowers people to seamlessly and securely access their data. It can be shared with third-party institutions.
The consent given under DEPA will be free, informed, specific, clear, and revocable.
Consent Managers: DEPA will involve the introduction of new stakeholders — User Consent Managers. They will ensure that individuals can provide consent for all data shared. These Consent Managers will also work to protect data rights.
Account Aggregators: Reserve Bank of India (RBI) had earlier issued a Master Directive for creating Consent Managers in the financial sector. They are to be known as Account Aggregators (AAs). A non-profit collective or grouping of these stakeholders form the DigiSahamati Foundation.
Open APIs: These enable the seamless and encrypted flow of data between data providers and data users through a consent manager.
Implementation: RBI, SEBI, IRDAI, PFRDA, and the Ministry of Finance are set to adopt and execute this model. This regulatory foundation will eventually evolve with the onset of new legislation (eg. with the forthcoming Data Protection Authority envisaged under Personal Data Protection Bill, 2019).
Background:
The regulatory direction on data privacy, protection, consent, and the new financial institutions required for DEPA's application in the financial sector was provided through the following sequence of events:
Supreme Court Judgement on the Fundamental Right to Privacy in 2017.
Personal Data Protection Bill (PDP), 2019.
Justice Srikrishna Committee Report, 2018.
RBI Master Direction on NBFC-Account Aggregators, 2016 (for the financial sector).
Impact On Financial sector:
Individuals and Micro, Small and Medium Enterprises (MSMEs) can use their digital footprints with DEPA. They can also access not affordable loans. Other amenities include insurance, savings, and better financial management products.
The framework is expected to become functional for the financial sector starting fall 2020.
It will help in greater financial inclusion and economic growth.
Flow-based lending: DEPA can provide portability and control of data. This could allow an MSME owner to digitally share proof of the business' regular tax (GST) payments or receivables invoices easily. On the other hand, a bank could design and offer working capital loans. This can be based on the demonstrated ability to repay. (This is known as flow-based lending). This is suitable for offering bank loans backed by assets or collateral.
Conclusion
This is the beginning of a new uniquely Indian journey on data empowerment and financial inclusion. An open and vibrant data democracy can be created. But this is only if we can enable a billion individuals to thrive in an increasingly digital economy.
The digital economy should comprise digital public goods. These should be designed to scale to meet the needs of a diverse population. Moreover, the technology standards constituting DEPA are open and publicly available. This also means that the technical and institutional architecture can also be applied to other countries. An institutional body could even be designed to help globalize this standard. This will help apply it to other nations facing similar challenges as appropriate.
About Signzy
Signzy is a market-leading platform redefining the speed, accuracy, and experience of how financial institutions are onboarding customers and businesses – using the digital medium. The company's award-winning no-code GO platform delivers seamless, end-to-end, and multi-channel onboarding journeys while offering customizable workflows. In addition, it gives these players access to an aggregated marketplace of 240+ bespoke APIs that can be easily added to any workflow with simple widgets.
Signzy is enabling ten million+ end customer and business onboarding every month at a success rate of 99% while reducing the speed to market from 6 months to 3-4 weeks. It works with over 240+ FIs globally, including the 4 largest banks in India, a Top 3 acquiring Bank in the US, and has a robust global partnership with Mastercard and Microsoft. The company's product team is based out of Bengaluru and has a strong presence in Mumbai, New York, and Dubai.
Visit www.signzy.com for more information about us.
You can reach out to our team at reachout@signzy.com
Reach us at: www.signzy.com
Written By:

Signzy
Written by an insightful Signzian intent on learning and sharing knowledge.