Introduction
The global online gambling industry was worth more than $45 billion in 2017 and is predicted to rise to $94.4 billion by 2024. With such a stark rise in use and increasingly large sums of money moving through these entities, online gambling and gaming institutions are facing the same scrutiny to which other banks and other financial entities are subject. Prime targets for identity fraud, money laundering, and international financial crime, regulatory compliance is intensifying to ensure that online casinos and gambling institutions are taking serious measures to prevent such illicit activity.
However, as the demand for online gambling services increases, so does the stringency of regulatory compliance. Not only does this mean hiring a large compliance team to deal with the backlog, but online casinos are also now subject to higher costs and wait times for identity verification procedures. In this sense, manual KYC processing for casinos is a little outdated, offering a clunky solution that wastes time, squanders budgets, and is littered with errors.
The Backdrop Of Online Casinos & Gaming In the USA
In the USA, online gambling establishments that have gross revenue of over $1 million are classed as non-bank financial institutions (NBFI). This means they must adhere to similar regulations as banks to help prevent fraud, financial crimes, and money laundering. 
The Financial Crimes Enforcement Network (FinCEN) is responsible for monitoring the compliance of AML regulations under the Bank Secrecy Act (BSA). The BSE requires that financial institutions must help the government identify and prevent money laundering by identifying, flagging, and reporting certain suspicious activity and transactions. FinCEN has assigned this responsibility to the Internal Revenue Service (IRS) to ensure compliance measures are being met.
For relevant online casinos, AML measures include filing suspicious activity reports (SARs) for unusual transactions of over $5000, as well as reporting currency transactions of over $10,000. There are also extremely tight requirements for recordkeeping and receipt storage, as well as credit extensions over $10,000. 
While all of these AML measures are a must, US online casinos are first required to accurately identify and verify customers using KYC processes. Failure to do so results in unbelievable fines. 
In fact, the American Gaming Association (AMA) recently updated its policies. According to these new regulations, US users can not open an account without providing basic PII details: full legal name, address, and social security number. More importantly, however, no real money transactions can be undertaken without submitting an official government ID and proof of a permanent address.
The poignant point here is that AMA's rules apply to the patron, not the casino as such. In this sense, a US citizen using an online casino in a different jurisdiction must still provide this information. If online gambling platforms don't have measures in place for this, they are in danger of non-compliance.
Call For KYC In The Gaming Industry – How It Can Help?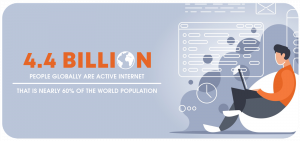 Almost 4.4 billion people globally are active internet users as of April 2019. This means that nearly 60% of the human population has the means to connect and interact with the online world around them. It's no surprise that these combined factors have fueled the market for online gambling and gaming. In an already heavily regulated marketplace, this rapid growth is bringing Know Your Customer (KYC) and Anti-Money Laundering (AML) to the forefront of regulators' agendas around the world.
With a wide range of options for users to gamble online, it makes sense that the companies that will come out on top are going to strike a balance between compliance and user experience. The question is, how can companies maintain compliance without sacrificing an incredible gaming experience for their users?
Why do online gambling and gaming companies need to be responsible for KYC?
Companies in the online gambling and gaming industries are legally obligated to verify user identity, age, location, and source of funds among other categories to protect their users and platform from bad actors and fraud.
One of the major reasons for this is the need to avoid money laundering and terrorist funding. If proper KYC is not performed on contestants and participants, the platform can be used to launder money and use it for assimilating funds for dangerous organizations. Many laws are created to prevent such practices and most gaming organizers and companies must abide to it.
Just as reputable companies prioritize trust when it comes to providing users with fair play and a secure environment, users must be able to trust that information being collected from them is being handled appropriately and safeguarded.
Companies looking to stay both in compliance and competitive are seeking advanced onboarding & identity verification solutions to…
Protect the company and users from bad actors and fraud
Continuously comply with the latest global regulations
Deliver a seamless, trustworthy, and user-friendly experience
KYC in The Gaming Industry – Mistakes That Could Be Avoided
Casinos deal in financial transactions, often on a very large scale. Online gambling platforms and casinos can turn over millions of dollars a day, making them a prime target for money laundering and financial crimes. Not only that, the lack of face-to-face interaction on internet gambling platforms makes it easier for fraudulent users to play on these sites without detection.
KYC and identity verification processes are designed to help reduce the risks of illicit activity by identifying customers and verifying that this identity is correct. In doing this, suspicious characters and potentially high-risk users can be flagged and monitored, or banned.
As in every industry, a risk-based approach is very important and necessary in the gaming industry. For an AML control program to achieve its purpose, it is very important to identify risks and take precautions against risks. As part of the risk-based approach, game operators must implement risk assessment by implementing AML controls to new customers throughout the customer engagement process. Know Your Customer and Customer Due Diligence procedures describe the controls that must be implemented during the customer onboarding process.

Currently, it's predicted that 2-5% of the US's GDP is laundered money, equating to between $800 billion and $2 trillion. Unfathomable sums of this nature have the power to shake the bedrock of the US economy.
While money laundering may seem to be a primary concern for banks and financial entities, studies show that casinos are ripe for money laundering. In 2014, Finnish gambling operators submitted over 9000 money laundering reports. 
Studies are showing that criminal groups, known as dot.cons work together to 'wash' funds by deliberately losing games and claiming 'clean' prize money. A great example of this was The  Corozzo Network, operating from 2005 to 2008. The network of 26 members ran illegal gambling and loan-sharking services through four online gambling sites, laundering more than $10 million.
More recently, CG Technology (trading as Cantor Gaming) was fined $22.5 million by various regulatory bodies in 2016 for poor AML provisions. The gambling company's lack of AML procedures enabled 26 individuals, known as the 'Jersey Boys', to launder large sums of money through the platform with bad bets.
Further still, as technology advances, the schemes become more complex. Thanks to the introduction of virtual credit cards, prepaid mobile credit, and alternative payment gateways like PayPal, micro-laundering is now easier than ever and far less detectable.
By introducing strict KYC checks, casinos mitigate the risk of becoming vehicles for money laundering as high-risk individuals are flagged from the outset.
How Digital KYC Can Help The Online Gaming Industry
As we can see from above, KYC and AML (Anti Money Laundering) solutions can save business owners a lot of hassle. Digital KYC systems would have carried out comprehensive background checks identifying possible threats and allowing the owner to take action accordingly. The online gaming industry is a hotspot for money laundering although certain policies are governing the industry the chance is still there that it could be used for terrorist funding.
Signzy is an AI-powered RPA platform that provides digital onboarding solutions with our no-code AI model builder and our Fintech API Marketplace of over 200+ APIs. Our unique solution provides:
Secure System: A customer's account information is secure because the entire process is online. Identity theft, fraud, loan scams, money laundering, the flow of black money, etc. are all minimized with RealKYC.
Efficient Communication: Effective information can be relayed in an efficient and timely manner. There is no need for constant back and forth. Most details are published automatically unlike manual KYC.
'Free of Cost' Process:  RealKYC verification doesn't charge any extra amount to the customer. A company or institution may need to pay automation costs of installing verification systems for the long run but the end-user gets a seamless, almost instant onboarding without hassle.
Faster processing: The RealKYC service is completely automated online. This means that KYC data can be transferred in real-time without the need for any manual intervention. The paper-based KYC process can take days up to weeks to get verified, but the eKYC process takes just a few minutes to verify and issue.
At Signzy, we have also introduced a new form of KYC verification called VideoKYC. This is a faster and more efficient form of KYC collection and verification. It conducts liveliness checks against the user as well as verifies the identification document against forgeries. The VideoKYC product has gained a lot of recognition and won several awards in recent months.
Advantages of using VideoKYC
Higher Application Accuracy
Plug and Play solution, swift Go-To-Market
Comprehensive Training Program
Competitive Advantage through customer delight
100% compliant with the latest RBI Mandate
Exponentially increase Scale of Operations
Reduced back office overheads (up to 70%)
Reduction in customer Drop-offs (up to 50%)
Platform Agnostic, support multiple communication channels
Conclusion
The online gaming industry is evolving rapidly around the world and expanding with each passing day. Gaming sites have improved tremendously in terms of user experience and now, they can make it more secure by enhancing the membership security protocols. Providing different gaming sites the ease of accurate digital ID verification will increase their revenue manifold. The introduction of digital KYC services has already been a huge success in financial and other sectors. Hopefully, its adoption in the near future might lead to more secure online gaming services in the US.
About Signzy
Signzy is a market-leading platform redefining the speed, accuracy, and experience of how financial institutions are onboarding customers and businesses – using the digital medium. The company's award-winning no-code GO platform delivers seamless, end-to-end, and multi-channel onboarding journeys while offering customizable workflows. In addition, it gives these players access to an aggregated marketplace of 240+ bespoke APIs that can be easily added to any workflow with simple widgets.
Signzy is enabling ten million+ end customer and business onboarding every month at a success rate of 99% while reducing the speed to market from 6 months to 3-4 weeks. It works with over 240+ FIs globally, including the 4 largest banks in India, a Top 3 acquiring Bank in the US, and has a robust global partnership with Mastercard and Microsoft. The company's product team is based out of Bengaluru and has a strong presence in Mumbai, New York, and Dubai.
Visit www.signzy.com for more information about us.
You can reach out to our team at reachout@signzy.com
Written By:

Signzy
Written by an insightful Signzian intent on learning and sharing knowledge.