Introduction
With a US$ 280 billion evaluation, the Indian Insurance sector is a huge market for both domestic and international companies. Life Insurance portfolios alone are expected to grow nearly 75% in the next 5 years.
Unfortunately, insurance fraud has been on the rise around the globe and in India, particularly. The Financial Express reports that more than 9% of claims in the insurance sector are false or fraudulent. Annually, it results in more than Rs.40,000 crores loss. In 2019 alone this was more than Rs.45,000 crores.
Continued, this will result in a massive drain of India's economic prowess. On top of this over $6.25 billion is lost by insurance companies to fraudsters. This in turn might cause the companies to increase premium rates for genuine customers.
This article takes a detailed look at how that is possible. With some selected cases of fraud that could have been prevented with technology, it gives a better perspective on how useful is technology against fraud.
Let's Understand Insurance Fraud And Its Types
An act performed to defraud an effective insurance process is called insurance fraud. It occurs primarily when a claimant tries to gain an advantage or benefit not entitled to them. Fraud is deliberate and willful. In this sector, it always involves financial benefits performed under false and illegal pretense.
The Apex entity and the overseer of all insurance business in India, Insurance Regulatory and Development Authority of India(IRDAI) defines 3 generalized classifications for insurance fraud in India:
Claims/Policyholder/Customer Fraud- This includes fraud against the insurance company during the purchase, execution, or claims processing of an insurance product or policy.
Intermediary Fraud- If an Insurance Agent/ Third Party Administrator Agents(TPA)/Corporate Agent or any intermediary perpetrate any fraud against the policyholders, customers, or the insurance company.
Internal Fraud- If a Director, manager, or officer in the higher ranks indulges in misappropriation or fraud against the insurance company.
Out of these three, claims fraud is most common, and they are divided into Hard Fraud and Soft Fraud. If an individual deliberately invents loss such as theft, destruction of property(like arson), or self-inflicted injury to claim benefits from respective policies, it is called hard fraud. Soft or opportunistic fraud includes exaggerated claims by policyholders. The real damages are hidden and an exaggerated representation of the situation is presented.
Insurance Fraud In Different Sectors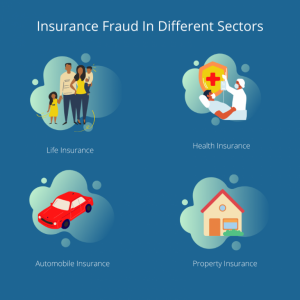 Fraudsters find different ways to operate in different insurance sectors. Thus a detailed look at how each sector defines potential fraudulent methods is helpful. Fraudsters usually target the following major fields:
Life Insurance
This is the most expansive field of insurance. This renders it the sector most susceptible to fraud. Most of this fraud occurs during the application process usually with applicants misrepresenting their income, health, personal information, or in certain cases, the true documents. Some of these might be to get less expensive premiums, but many cases are for scamming the insurance companies.
Digitizing the processes by insurance agents is an excellent move by companies. But inefficient implementation of this is futile. Some ways in which fraudsters trick the companies is by creating an additional identity as a beneficiary or faking death to claim the life insurance benefits. Fraudsters may return after disappearing for a few years claiming loss of memory to avoid any penalty.
Sometimes fraudsters withhold information regarding multiple policies. This is not allowed. The customer must provide information regarding all policies concerning the insurer. This prevents a single individual from having multiple claims on a single issue.
Health Care Insurance
Health insurance fraud is the intentional deception, concealment, or misrepresentation of information resulting in healthcare benefits for an individual or group. It can be committed by the policyholder or the provider. Some of the major modes of healthcare frauds are given below:
A policyholder trying to hide pre-existing conditions while applying is fraud. This is done by submitting false medical data or other documents. The legitimate waiting period for individual policies is ousted in such fraud practices.
Documents are outright fabricated to satisfy the terms and conditions of the policy. Insurance companies prefer youthful and healthy people as their customers. But if an aged person approaches them, the company would provide insurance. But the premium costs for this would be high as the risk for the company would be high. People try to conceal their ages in such cases. Faking disability is a divergent fraud practice from this.
Submission of duplicate bills that are either forged or inflated is also fraud. This is important in cases where no actual expense occurred. This is because of the basic understanding that insurance policies are not for profit but security.
A person participating in a fraud ring i.e collude with an agent, doctor, provide, etc to create a false claim is also illegal.
Automobile Insurance
Fraud rings in this sector collude to fake traffic accidents, collisions, or even death to make a fake insurance claim. The objective is mostly money. This ring may include insurance claims adjusters and forgery experts who make phony police reports and other documents. The Insurance Research Council estimates 21% to 36% of all automobile insurance claims to contain suspecting elements of fraud.
Automobile insurance frauds primarily fall under either of the following categories:
Staged Collisions- Fraudsters utilize a vehicle to stage an accident with innocent or involved parties. The fraudsters carry 4–5 passengers in a vehicle and the driver takes an unexpected maneuver that forces the innocent or opposite party to collide with their vehicle. Each fraudster can claim the insurance for the injuries he has been inflicted during the accident. Documents including medical reports and sometimes even identity proofs are forged for this purpose and submitted for evaluation.
Exaggerated Claims- After a real accident has occurred, the owner might incorporate a whole set of previous minor damage into the garage receipt associated with the accident. Personal injuries like whiplash might be exaggerated with false documentation.
Property Insurance
Fraudsters might try to insure a property and then destroy it to claim the insurance. This usually involves arson. They tend to forge the necessary documents to prove that the destruction occurred due to natural causes or disasters.
Selected Scenarios Where Technology Could Have Prevented Scammers.
While taking a closer look at how individual insurance fraud cases have fared in India, one thing stands clear- We could have prevented them. Almost all fraud is motivated by money. With technology, we could keep better tracks on scammers and fraudsters. Some of those selected incidents are given below with how technology could have been used to prevent them.
Madhya Pradesh- July 9, 2019.
A 10 member gang in Madhya Pradesh that included a doctor and a lawyer pulled off a brilliant scam for nearly half a decade. With an estimated total of more than 2 crore rupees scammed from insurance companies, the gang was faring very well till early 2019. The gang operated from the Dhar district by forging fake documents of persons in a moribund state and terminally ill people.
The fraudsters first identified their victims that included terminally ill patients. Then they would obtain vehicle finances and life insurance claims in their names. After their natural death, forged certificates proving unnatural causes for their death are submitted. Even the age of these senior citizens was falsified to avoid suspicion. With these forged documents the gang claimed money from the insurance companies.
This is a classic example of how document forgery and pretense are used to defraud companies. This could easily be avoided with technology. If the documents were analyzed by specific and well-equipped APIs or other forms of automation, the fraud could have been detected. As much as a document can be forged, it could never be as good as the original. This difference which is negligible to the human eye can be caught by technology.
Andhra Pradesh- November 26, 2017
A 35-year-old woman declared herself dead to claim Rs.1 Crore from an insurance company. She appointed her husband to raise the claim. The woman's husband, Syed Shakeel Alam submitted fake documents declaring his wife had died. He mentioned in the documents that his wife was the policyholder.
He approached the insurance company claiming Rs1 Crore insurance. The Rs.1 Crore policy was issued in 2012 and an annual premium of Rs.11800 was paid every year for 5 years. The death report of the woman specified the cause of death as 'chest pain'. In truth, most of the documents and medical records were either forged or belonged to another woman who had in truth died. Though captured, they had almost pulled off the fraud.
This too could have been prevented if proper technology was used to analyze and identify the documents. Visual verification could have been used to ensure better credibility. The existing APIs available for such measures are very effective. Unfortunately, many companies are yet to adopt these.
Gujarat- January 18, 2021
Four individuals including a doctor, an insurance agent, administrator of a private hospital, and a policyholder claimed insurance with the help of spurious COVID-19 medical documents and records in Vadodara, Gujarat.
Dr. Anil Patel, insurance Agent Pravin Parmar and administrator Dipak Tiwari were the prime culprits. Patel and Parmar would obtain and use bogus medical records. They tried to claim north of Rs.4,00,000. Tiwari tampered with the COVID-19 test samples and pasted the names of policyholders on them. He even tampered with the test results to make them 'positive'.
The lack of a proper database and the inefficient evaluation of the documents was the major reason this scam had been going on for some time. If the claims processing was more accurate and diligent, this could have been prevented. Technology provides us with APIs and RPA that can be used to make strict verifications and avoid such situations.
How Will Technology help?
It is concerning that 'insurance fraud' is undefined in the Indian Insurance Act, 1938. Other instruments such as the Indian Penal Code(IPC) or the India Contract Act from the legal system are also void regarding insurance frauds. Thus, it is up to individual insurance companies to take action to prevent it.
One of the best ways is to use technology and automation to mitigate fraud risks.
Most claims are evaluated by agents or officers from the insurance company. They may make mistakes unintentionally or if dishonest may corrupt the process. This negative human factor can be eliminated with technology. It will also provide benefits to the company in the form of saved time and resources. Some of the specific reasons are given below:
APIs can be used to evaluate the document submitted at the time of application and claim. These APIs give unbiased and definitive results. Thus Forgery is detected much easily.
A digital repository of all policies can be digitally accessed by the APIs to decide if the applicant has applied for multiple policies for the same issue. This is not allowed by the government and the insurance company is not liable to pay the unmerited benefit.
Profiles of applicants and policyholders are double-checked with available repositories and history databases. This will help understand the background and history of the customer from a more credible perspective.
Immense time can be saved as a human evaluation would have taken days to complete. But technology can do this in a matter of minutes.
Constant monitoring for any fraudulent activities is possible as any kind of suspicious behavior in the database is detectable.
Lesser resource and manpower is required for conducting the process of policy claims. This saves the company funds.
Conclusion
As technology advances, the world too shall move ahead. Most of the financial sector acknowledges this and adapts to the changing world of automation. Unfortunately, the Indian Insurance Sector seems to be a little slow in this process.
With a growing number of fraudsters and scammers, it is wise for the sector to understand the technology and implement it in the most efficient manner possible This will save them time and resources while creating a well-fortified system devoid of human errors. This in turn will build their credibility and trust in the competitive arena.
It is only a matter of time before the whole sector transforms in the new era, but if the innovators in the field open their eyes and make the process faster, much attrition can be avoided for their companies. That is why adopting technology is not just necessary, but inevitable.
About Signzy
Signzy is a market-leading platform redefining the speed, accuracy, and experience of how financial institutions are onboarding customers and businesses – using the digital medium. The company's award-winning no-code GO platform delivers seamless, end-to-end, and multi-channel onboarding journeys while offering customizable workflows. In addition, it gives these players access to an aggregated marketplace of 240+ bespoke APIs that can be easily added to any workflow with simple widgets.
Signzy is enabling ten million+ end customer and business onboarding every month at a success rate of 99% while reducing the speed to market from 6 months to 3-4 weeks. It works with over 240+ FIs globally, including the 4 largest banks in India, a Top 3 acquiring Bank in the US, and has a robust global partnership with Mastercard and Microsoft. The company's product team is based out of Bengaluru and has a strong presence in Mumbai, New York, and Dubai.
Visit www.signzy.com for more information about us.
You can reach out to our team at reachout@signzy.com
Written By:

Signzy
Written by an insightful Signzian intent on learning and sharing knowledge.